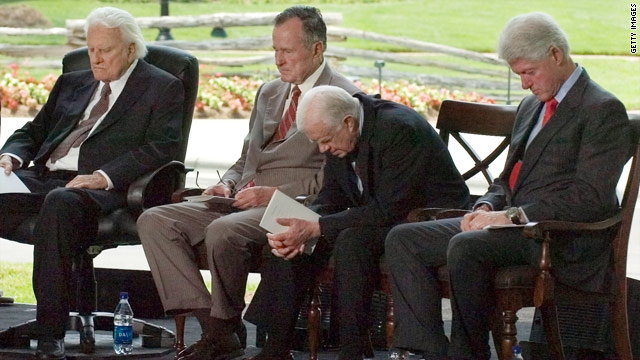 Employing faith, whether calling for nationwide prayer or healing the nation by quoting scripture, is a presidential tradition as old as the office itself.
Pictured: Presidential displays of piety, like this, are common and historians say they make presidents more relatable.
The nation's first president, George Washington, was also the first to call for a National Day of Prayer, one of "fasting, humiliation and prayer" to "acknowledge the gracious interpositions of Providence."
President Franklin Delano Roosevelt, in his famous fireside chats, promised "salvation" from the economic doldrums of the Great Depression. And President Barack Obama, in the aftermath of the tragic shooting in Newtown, Connecticut, quoted scripture as a way to comfort those grieving.
Obama will continue this tradition on Thursday when he attends the National Prayer Breakfast, a longstanding Washington event that has hosted every president since Dwight Eisenhower.
The breakfast is organized by The Fellowship Foundation, a nonprofit religious organization, and is designed to bring together leaders from the political, religious and business realm.
Obama has participated in the breakfast each year of his presidency. Last year he used his remarks to discuss his personal faith. "I wake up each morning and I say a brief prayer, and I spend a little time in scripture and devotion," he said.
Religious and presidential scholars told CNN that while some critics may question whether events like the prayer breakfast blur the line between separation of church and state, the use of religious language helps presidents connect with the people they were elected to lead.
"I think that it is pretty clear that presidents have employed religious terms, not just in times of tragedy, but throughout their career, in order to seem more relatable and a little bit more like their constituencies," said Darrin Grinder, co-author of "The Presidents and Their Faith."
"We like to see our presidents as reflecting our values and actually being better than we are," he said. "As a largely Christian nation in terms of self-identification, even though we don't talk about the Bible, when the president speaks in that kind of language, it is a better version of ourselves."
The most common use of religion by presidents is after national tragedies or when the country faces difficult times.
George W. Bush used scripture and religious language to comfort the nation after the September 11 terrorists attacks; Bill Clinton did, too, after the Oklahoma City bombing, as did Ronald Reagan after the space shuttle Challenger explosion.
Using scripture this way, said Richard Norton Smith, a professor at George Mason University, fulfills the "emphasizer in chief, mourner in chief, grief counselor in chief" role of the presidency.
SOURCE: Dan Merica
CNN | Belief Blog