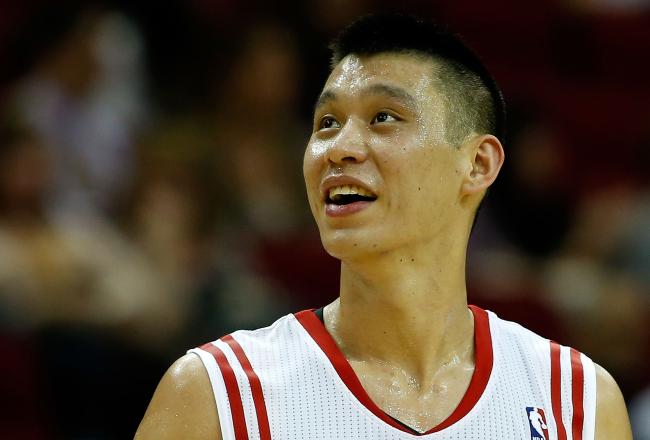 When the Houston Rockets signed Jeremy Lin in the offseason, the polarizing point guard became an instant lightning rod subject.
Did the Rockets make a mistake?
Was Linsanity a fluke?
Were the Rockets NBA Finals contenders?
Now that the hysteria has died down a bit and Lin has put in 55 games with the Rockets, it's much easier to examine the move. Here's a look at what Lin has done thus far, the Rockets' ceiling with Lin running the point and an overall grade for the move.
Production
Lin got off to a somewhat rough start at the beginning of the season, but his numbers have slowly improved as the season wears on. After 55 starts this season, here's Lin's stat line for the season:
32.7 MPG, 12.6 PPG, 6.2 APG, 43.4% FG, 2.9 TPG
For comparison, these are Lin's stats from his stint with the New York Knicks last season:
26.9 MPG, 14.6 PPG, 6.2 APG, 44.6% FG, 3.6 TPG
Looking at those two stat lines, Lin's numbers have pretty much remained the same as they were in his time with the Knicks. Of course, he played less minutes and still scored a little more, but he's taken on a different role with the Rockets and he's cut down on turnovers.
Lin's numbers don't reflect those of an "elite" point guard. His 12.6 points per game rank 14th among point guards, his assists are 13th at the position and his turnovers are seventh-most for starting point guards.
Overall, Lin's numbers indicate that he is more than capable of being the starting point guard of the future. He's just not "elite".
Future Fit with Rockets
The primary question surrounding whether or not the Lin signing was ultimately a success is how far the Rockets can go with Lin running the point.
Looking at the current NBA landscape and the direction the Rockets are headed, the answer is pretty far. With Lin as a full-time starter, the Rockets are clinging on to the No. 8 seed in the Western conference.
Lin's solid play has been an important part of the Rockets success, but the organization has built a strong core that won't ask Lin to be a superstar for them to find success.
Source: Bleacher Report | ALEX BALLENTINE