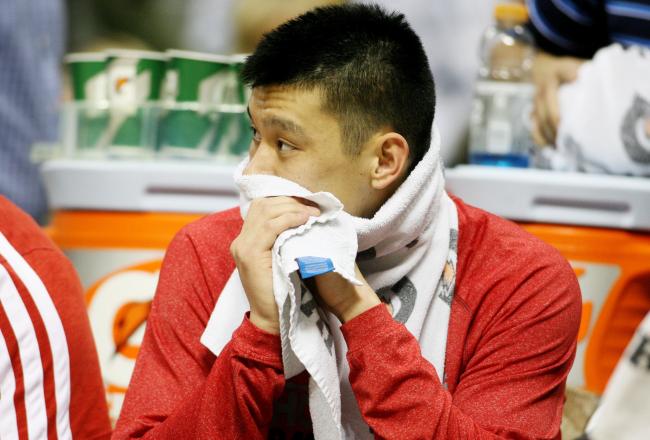 When the Houston Rockets signed Jeremy Lin to a three-year deal last July, GM Daryl Morey and head coach Kevin McHale hoped that the phenomenon known as Linsanity would follow him to Houston. At this point in the season, it's safe to say that the Linsanity of 2012-13 has been sporadic, at best.
Keep in mind that last February, Lin turned into an overnight sensation for the New York Knicks, averaging 20.9 points, 8.4 assists and 2.1 steals over the course of the month. Once head coach Mike D'Antoni resigned and his run-and-gun game was replaced with the isolation offense of Mike Woodson, Lin's production dropped.
Seeing as how McHale employs a run-and-gun offense in Houston, one would assume that Lin would be right back in his comfort zone. Instead, it has been the exact opposite.
Don't get me wrong. Lin has not been flat-out terrible for Houston this season. The Harvard grad has posted 12.6 points, 6.1 assists and two steals per game, all respectable numbers.
But when it comes to scoring consistency, it's really been luck of the draw for Lin. He has shot 44 percent from the field this season, but that number only rose recently. In the season's first month, he shot just 37 percent.
As a result, the Rockets' offense has become fairly predictable. James Harden is the go-to scorer who can also create plays, while Chandler Parsons can be the secondary threat and Omer Asik contributes as necessary. Lin will have a great night every so often, but is not the electrifying point guard needed in a run-and-gun offense.
Houston's inconsistency has them ranked just eighth in the highly competitive Western Conference. They rank second in scoring, but Lin's struggles are going to keep them from both gaining ground in the standings and making a statement come playoff time, if they even get that far.
This means that Lin needs to dig deep and find the luster that made him a household name last season. Be it just getting his confidence back or spending some extra time in practice working on his shooting, he needs to turn on the afterburners right now.
Source: Bleacher Report | JOSH BENJAMIN