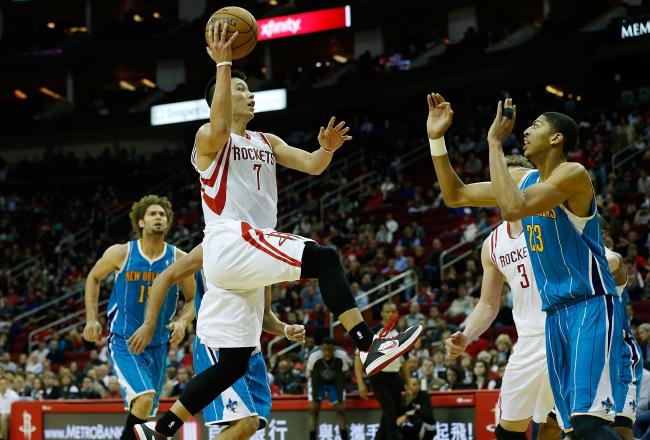 There is absolutely no doubt that the leading catalyst behind the Houston Rockets' emergence as a potential playoff team is James Harden, but Jeremy Lin deserves credit for his role in that resurgence. He is playing sound, controlled basketball while setting up his talented teammates en route to leading the No. 1 scoring offense in the NBA.
The most important thing to note regarding Lin is that his performance is usually a good barometer for the team's. Lin has really gotten going over the past few weeks, besting his season averages in nearly every stat in February. It's no surprise, then, that the Rockets have been able to go 4-3 in that span, with two notable wins over the Golden State Warriors.
The most important statistic for Lin is assists-to-turnovers ratio, and that's where he has improved most recently. His ratio in February is 3.19, which would be good enough to rank fifth in the league over an entire season. That number is also a vast improvement on his 2.12 number for the entire season, which ranks 48th in the NBA.
If he can maintain that level of efficiency, Lin should be just fine as he operates the fastest-paced and highest-scoring offense in the league. He's gotten better and better in that regard, so there is reason for optimism there.
Source: Bleacher Report | SHAWN BRUBAKER