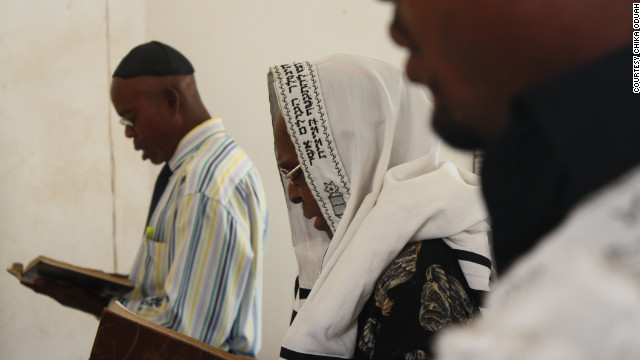 A Shabbat service is underway at the Ghihon Hebrew Research synagogue in the Jikwoyi suburb of Nigeria's federal capital territory.
Pictured: The Igbo are one of Nigeria's largest ethnic groups. Among them is a minority of practicing Jews who believe they are descended from the "lost tribes" of Israel.
Fourteen year-old Kadmiel Izungu Abor heads there with his family. They walk alongside stray goats on a road covered in red dust and potholes, lined with open sewage. They are nearly 20 kilometers away from the modern multi-story office buildings and sprawling mansions in Nigeria's capital city of Abuja.
About 50 people gather in the synagogue. They pray from the Siddur, they read from the Torah and as they chant, Abor's mellow alto begins to rise.
In a country of 162 million people tensions often lead to violent uprisings between Christians and Muslims and being part of the religious minority can be an issue. But Abor wears his kippah and his identity with pride.
"I am a Jewish Igbo," he says.
The Igbo are one of Nigeria's largest ethnic groups with population estimates ranging from 20 to 50 million. Abor is convinced that the Igbo's ancestors were Jews.
"The son of Yaakov, Jacob, [was] Gad and I learned that he was among those people who went out of Israel to exile," Abor says. "So from there he had a son called Eri and a son gave birth to a son called Aguleri and that's how the Igbo race began."
From generation to generation, some Igbo have passed down various versions of a migration story framed around Jacob, a patriarch of Judaism. A popular version of the narrative holds that Gad, the seventh son of Jacob, had three sons who settled in present-day southeastern Nigeria, which is predominantly inhabited by the Igbo. Those sons, Eri, Arodi and Areli (as mentioned in the book of Genesis), are said to have fathered clans, established kingdoms and founded towns still in existence in southeastern Nigeria today, including Owerri, Umuleri, Arochukwu and Aguleri.
Eze A.E. Chukwuemeka Eri, the king of a community in Aguleri, claims he presides over the throne of Gad's son, Eri.
Wearing a white shirt with the Star of David stitched on the front, King Eri points to a calendar on the wall of his palace that lists the names of his 33 predecessors. He has no doubts that Eri is his ancestor. He has even acquired land to establish an educational center for the study of Jewish culture.
"Israelites and Igbos are brothers," he says with a broad smile.
SOURCE: Chika Oduah
CNN