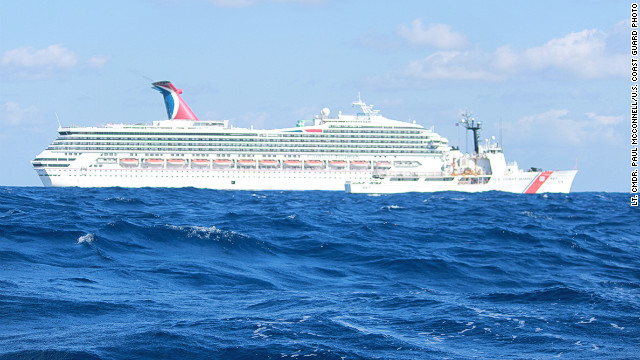 Ewwwww.
That about sums up how people are describing conditions aboard the Carnival Triumph Tuesday as tugboats slowly drag the stricken cruise ship toward Alabama -- and freedom for its 3,143 passengers.
Some passengers report sewage sloshing around in hallways, flooded rooms and trouble getting enough to eat after a fire in the ship's engine room Sunday left it drifting in the Gulf of Mexico. Passengers dragged their mattresses onto the ship's open deck to stay cool and get away from the nasty smells inside.
"The odor is so bad, people are getting sick and they're throwing up everywhere," Brent Nutt, whose wife is aboard the ship, said Tuesday.
But not all passengers share the same dire view of the situation.
A poster on the cruising forum cruisecritic.com said her sister reported passengers have enough food and are "enjoying the extended vacation."
The fire is at least the second problem for the ship since late January, when it had a problem with its propulsion system, according to a notice posted to Carnival Senior Cruise Director John Heald's website.
The company also recently repaired one of Triumph's alternators, the company said Tuesday.
However, there's no evidence the alternator problem and the fire are linked, cruise line spokesman Vance Gulliksen said Tuesday.
Sunday's fire aboard the Triumph came as it steamed about 150 miles off Mexico's Yucatan Peninsula on the way back to Galveston, Texas. The ship was on the third day of a four-day cruise.
"We all woke up and panicked," passenger Donna Gutzman told CNN affiliate KPRC. "A couple other alarms went off and we started seeing smoke."
SOURCE: Michael Pearson
CNN