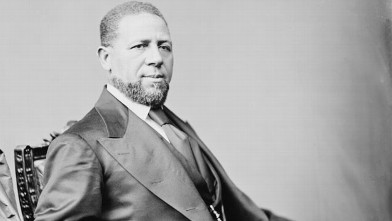 The United States Senate has a long history of producing historic leaders, but has featured only eight African-American members. The following eight senators set a number of political and social milestones spanning the Reconstruction and beyond. Continue reading to learn more about their many achievements.
HIRAM RHODES REVELS, R-MISS.
Hiram Rhodes Revels, R-Miss.
Revels was the first African-American to serve as a state senator, representing Mississippi. Revels was elected by the Mississippi State Senate to fill a vacant U.S. Senate seat, which was abandoned by Albert G. Brown when Mississippi seceded from the Union during the Civil War.
Revels was greeted in Washington by two days of debate about his seating in the Senate. Southern Democrats staunchly opposed Revels' admission into the Senate because of the Supreme Court's Dred Scott decision, which stated that African-Americans were property rather than citizens. Since the 14th Amendment was ratified in 1868, two years before Revels was elected to the Senate, Democrats argued that Revels could not fulfill the nine-year citizenship requirement and, therefore, could not legally assume the position of senator.
Source: ABC News | ALISA WIERSEMA