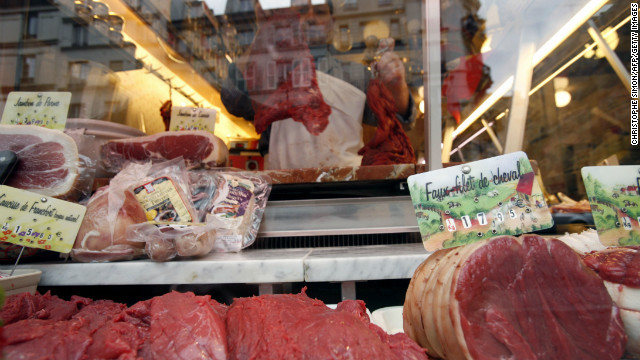 High-stakes lawsuits, overlapping investigations and a bitter battle over blame are spreading across Europe in the wake of a scandal that has rocked the meat industry.
Horse meat was discovered in products that are supposed to be 100% beef, sold in Sweden, the United Kingdom and France.
On Sunday, a major company under scrutiny called one of its suppliers a "villain" responsible for the fraud. The supplier, in turn, insisted it was "fooled" by a subsupplier.
While authorities say there is no immediate cause for health concerns, the discovery was a new shock to an industry already reeling from a bombshell last month when Irish investigators found horse and pig DNA in numerous hamburger products.
The blame chain
Swedish food producer Findus has been a focus of the uproar since it announced Thursday that it had withdrawn its lasagna from stores as a precaution. The products were pulled Monday after French supplier Comigel raised concerns about the type of meat that was used, Findus Sweden said.
Findus said a letter from Comigel dated February 2 informed Findus that the contamination may date back to August 2012.
Findus is only one of several companies that receive products from Comigel. Others include Axfood, Coop and ICA, which have recalled some meat products in Sweden, and Aldi, which has pulled some products from shelves in Britain.
Six big French retailers -- Auchan, Casino, Carrefour, Cora, Picard and Monoprix -- said Sunday that they were recalling lasagne and other products.
Findus Nordic, which oversees Findus throughout the Nordic region, said it has begun legal action against Comigel and its subsuppliers.
"We are only at the beginning of our legal process. Comigel will end up in a lot of legal processes going forward, I imagine," Findus Nordic CEO Jari Latvanen said Sunday in an interview with CNN. "Comigel is the villain."
Comigel has not responded to CNN's requests for comment. The company did not answer its phones when CNN called repeatedly, and did not respond to an e-mail request for comment. Neither did CEO Erick Lehagre.
But Lehagre told French news agency Agence France-Presse on Sunday that his company had been "fooled" by a French supplier. "We were victims," he said, according to AFP.
Comigel apparently took its website down, posting a sign that it is "under construction." Previously, the site described the company as offering a wide array of products through partners, including major European retailers.
Source: CNN | Josh Levs and Per Nyberg