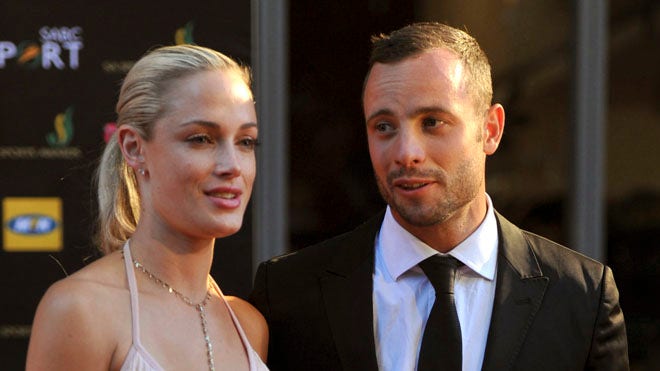 Illegal steroids and a bloody cricket bat were reportedly found in the South African home where so-called "Bladerunner" Oscar Pistorius allegedly gunned down his model girlfriend.
Nov. 4, 2012: In this photo, South African Olympic athlete Oscar Pistorius and Reeva Steenkamp, believed to be his girlfriend, at an awards ceremony, in Johannesburg, South Africa. (AP)
The paralympic athlete will be tested for the banned drug, possibly in anticipation of a possible defense claim that Pistorius acted in "roid rage."
"Steroid drugs were found at Pistorius's home together with evidence of heavy drinking," a source told The Sun. "That's why police have specifically ordered that he be tested for steroids."
It's not yet known whose blood was on the cricket bat, according to South Africa's City Press. Investigators believe Pistorius may have bash Steenkamp with the bat, or she may have used it to defend herself, according to the paper.
"There was lots of blood on the bat," a source is quoted as saying. "Forensic tests will show whose blood it was."
Pistorius, 26, is accused of murdering Reena Steenkamp, 29, on the morning of Valentine's Day. The athlete, who was born without fibulas and was outfitted with carbon-fiber running blades to compete as a sprinter, will appear in court on Tuesday.
Steenkamp, 29, was declared dead shortly after 3 am on Thursday morning at Pistorius' home in a gated compound outside Pretoria. She had been shot in the head, hand, hip and arm, and her skull was reportedly fractured. Pistorius, 26, was arrested immediately, and claimed that he mistook Steenkamp for a burglar.
Police said Steenkamp was shot four times at Pistorius' villa in a gated community. Officers found a 9 mm pistol inside the home.
Steenkamp will be buried tomorrow, even as Pistorius is scheduled to appear in court for a bail hearing.
Prosecutor Gerrie Nel on Friday claimed the shooting was premeditated murder.
Source: Fox News