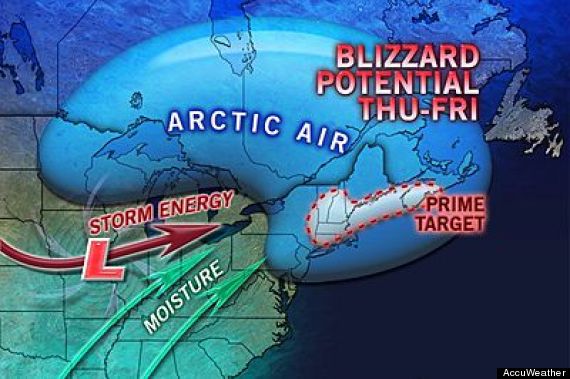 The snowstorm Friday will be big, but will it be historic and rival some of the legendary storms of Boston's past?
The short answer is it just might.
I think it is safe to say that Friday's storm will easily be the biggest one of not only this season but last season as well.
In fact, Boston has the chance to see as much snow in this one storm as they have seen in total from this winter and last!
Only six times in Boston's weather history (more than 100 years) has more than 20 inches fallen in one storm. You truly need the atmosphere to set up just right for a blockbuster snow event.
It seems that all the ingredients are in place at this point.
First we have an ample supply of cold air pouring out of Canada. Low temperatures Wednesday night will be in the single digits in many of the suburbs and highs on Thursday will only reach the mid 20′s.
Next, we have a very "juicy" storm coming from the Deep South, out of the Gulf of Mexico with plenty of moisture to work with.
And like so many other storms preceding it, as it reaches the warm current of the Gulf Stream of the Mid-Atlantic it will "bomb out" and become a very powerful nor'easter.
Finally, there is always a concern along the coastline for a mix or change to rain due to the relatively mild Atlantic Ocean.
This year, the Atlantic waters are actually much warmer than normal off the New England Coast, this being one of the main reasons why Boston has seen so little snow to this point and a spot like Worcester has had a much more "normal" winter.
However, the fact that this storm is happening in February and not December is a big deal. The ocean is always at its coldest in February and early March because of the lag time it takes for such a large body of water to cool. Therefore we are forecasting a mainly snow event this time near the coast with just some mixing over the Cape and Islands.
SOURCE: Terry Eliasen, Meteorologist
WBZ-TV / CBS Boston