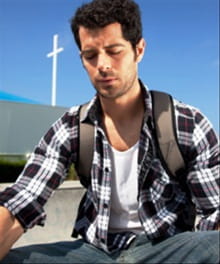 Between December 26, 2012 and January 3, 2013, I served on a mission trip to Russia where my team and I delivered Christmas presents to children living in orphanages. During my time there I kept a journal of events. The following is an adaption of several entries from the middle of the trip.
It was our last day in the city and I was exhausted. For a week my team and I had been working with children in the orphanages of Vladimir, Russia, and the combined effects of sickness, jet-lag, and Holiday chaos had left me completely spent. To complicate matters, that night our coordinator announced the most difficult home had been saved for last.
"This next orphanage has a reputation for being very, well, hard." He explained. "Our interpreters have been working with the kids there for a year now, but they can still be pretty cold. I just wanted you all to know what you should prepare for."
I wish I could say our visit to the orphanage promoted a miraculous change in the children. That our presence there caused them to open up, allowed us to get close and let them know that they were loved. I wish that we had really been able to communicate the gospel of Christ to them, but I can't. To be honest, the visit went almost exactly as I feared it would. Most of the children ignored us.
The ones who did choose to interact were withdrawn and bored, and then there were the troublemakers. I can remember one boy in particular who seemed to revel in the chaos he caused. He bullied the younger children, threw craft supplies around the room, and at one point even told our interpreters to "Just leave the presents and go." I thought I would be angry at this boy for the way he acted, but all I felt was sorrow. I knew that it couldn't be long before he aged out of the system.
Source: Crosswalk.com | Ryan Duncan, Editor, theFish.com