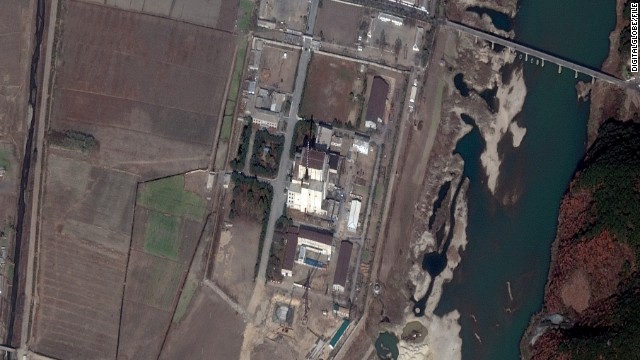 North Korea's nuclear test prompted united condemnation and a vow of tough action from the U.N. Security Council on Tuesday.
The council issued a statement slamming an underground nuclear test that jolted the already fragile security situation in Northeast Asia.
South Korean Foreign Minister Kim Sung-hwan, repeating a statement to reporters outside council chambers, said the test violated council resolutions, and "there continues to exist a clear threat to international peace and security."
Kim said that council members will start work "on appropriate measures in a Security Council resolution" and that "North Korea will be held responsible for any consequences of this provocative act." The council is chaired this month by South Korea.
The statement comes after the Security Council last month promised "significant action" if another North Korean nuclear test occurred.
The test probably took place near P'unggye and yielded "several kilotons," according to assessments cited by the U.S. director of national intelligence. It drew condemnation from around the globe and prompted an emergency Security Council session Tuesday morning.
It is the first nuclear test carried out under the North's young leader, Kim Jong Un, who appears to be sticking closely to his father's policy of building up the isolated state's military deterrent to keep its foes at bay, shrugging off the resulting international condemnation and sanctions.
After Kim Sung-hwan spoke, Susan Rice, the U.S. ambassador to the United Nations, told reporters outside the council chambers that the panel met to discuss what she called a "provocative test" and an action that council members regard as "regrettable."
The test violates North Korea's obligations under several unanimous council resolutions, she said.
The council "must and will deliver a swift, credible and strong response" in a resolution to deal with Pyongyang's missile and weapons programs, she said. The goal, she said, is to tighten and augment measures, such as sanctions, against the country.
North Korea "does not and will not benefit from violating international law," said Rice, who stressed that the country has "isolated and impoverished its people from its ill-advised pursuit" of weapons of mass destruction and weapons delivery systems.
The council's actions make it clear that such actions are "not acceptable" and "will not be tolerated," she said.
The permanent members of the United Nations Security Council are the United States, Britain, France, Russia and China.
Although Pyongyang had announced plans for the test in recent, vitriolic statements, its decision to go ahead with it provided a stark reminder of a seemingly intractable foreign policy challenge for President Barack Obama ahead of his State of the Union address later Tuesday.
The test was designed "to defend the country's security and sovereignty in the face of the ferocious hostile act of the U.S.," the North's state-run Korean Central News Agency said, referring to new U.S.-led sanctions on Pyongyang after the recent launch of a long-range rocket.
"This nuclear test is our first measure, which displayed our maximum restraint," KCNA said. "If the U.S. continues with their hostility and complicates the situation, it would be inevitable to continuously conduct a stronger second or third measure."
Tuesday's nuclear test, which follows previous detonations by the North in 2006 and 2009, had greater explosive force and involved the use of a smaller, lighter device, KCNA reported.
North Korea's nuclear program is shrouded in secrecy, so it's almost impossible to independently verify many of the details of the test. But its claims play into fears among the United States and its allies that Pyongyang is moving closer to the kind of miniaturized nuclear device that it can mount on a long-range missile.
The United States will try to determine if North Korea has tested a uranium weapon for the first time, a senior White House official said. The first two were plutonium bombs.
Despite the North's claims of progress Tuesday, analysts say they believe it is still years away from having the technology to deliver a nuclear warhead on a missile.
"This test isn't going to do that in and of itself, but it is a significant step forward," said Mike Chinoy, a senior fellow at the University of Southern California's U.S.-China Institute.
SOURCE: Jethro Mullen
CNN