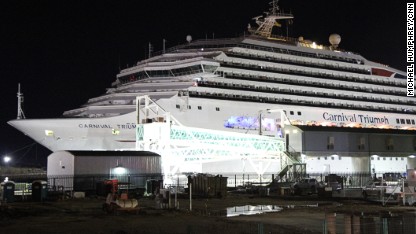 Erin Burnett is live from Mobile, Alabama, throughout the night as passengers exit the crippled cruise ship.
Almost five days after their ship was disabled by an engine fire, the more than 4,200 people on board the Carnival cruise ship Triumph began disembarking late Thursday, about an hour after docking at the Port of Mobile.
Crews were busy tying the ship to the dock at the Alabama Cruise Terminal as cheering passengers hung over balcony rails or waited in lines to exit the vessel.
It's almost over for the 4,227 passengers and crew stuck on a filthy, disabled cruise ship that limped into port three days after it was due.
Once the ship ties up at the dock, it will take four to five hours to get everyone off, said Terry Thornton, a Carnival vice president.
Carnival CEO Gerry Cahill told reporters he was going on to the ship to personally apologize to passengers.
"We pride ourselves in providing our guests with a great vacation experience, and clearly we failed in this particular case," he said.
As the ship approached Mobile, passengers were thrilled.
"I just had a crab sandwich with lobster for lunch because they are finishing off all the food," said Ed Buck, who was staying on an upper floor. "Life is good. People are very excited right now. We're getting back. You know, I think the media's made a lot of -- made it sound real bad. It's not quite as bad as everybody says."
Most people didn't agree with Buck, who said he has cruised 13 times and will do so again.
"I don't know how much more we could have took," passenger Larry Poret said via cell phone. Poret was aboard with his 12-year-old daughter, Rebekah, who said the ordeal has been "really, really difficult."
Crews were working to clean up the ship as it neared the dock.
"It's gotten a lot better," passenger Slyvester Davis said, adding that things improved once officials from the U.S. Coast Guard and National Transportation Safety Board announced they were coming aboard. "It's sort of frustrating because it doesn't look now the way it looked and the way we've been living."
Many passengers lauded the work of the crew, saying they had worked long shifts to make sure their guests were as comfortable as possible.
"The crew has worked nonstop," passenger Julie Morgan said. "They have been, from daylight to dark. I think one shift didn't even -- once they got a break ... it was too hot on their deck to go to sleep."
U.S. Customs and Border Protection officials, Coast Guard members and a Carnival team boarded the ship before it arrived in port to help speed efforts to get passengers off as quickly as possible, he said.
Some families gathered at the Alabama Cruise Terminal, far from where the ship was originally supposed to dock in Galveston, Texas. Marissa Jenks said her family reported they had a hot meal Thursday morning and crew members were trying to clean up the ship as it neared port.
Adam Buck, a spokesman for the city of Mobile, said about 75 people were waiting for their loved ones. Family members who spoke to CNN said they had come from Kentucky, Louisiana and Texas. Some had come in as early as Wednesday but the bulk of people arrived Thursday afternoon, with each hour bringing a few more cars.
Most of the anxious families couldn't bear the thought of their relatives being on a bus for hours and had gotten hotel rooms in Mobile where the homecoming would include a long shower and a meal.
Larry Poret confirmed reports of dire conditions aboard the ship, saying urine and feces streamed in the halls and down walls after toilet facilities failed, soaking the mattress of a friend of his who was sleeping in a hallway.
Emergency power failures caused section doors to slam shut, panicking some passengers who had no idea what was happening.
"We definitely are not adequately informed," Poret said.
The Carnival Triumph, originally carrying 3,143 passengers and 1,086 crew members, was on its way home Sunday when a fire off the coast of Mexico left the vessel listing to the side and drifting in Gulf of Mexico currents. Since then, two passengers have been taken off the ship because of medical situations, including one woman who the Coast Guard said had a possible stroke.
SOURCE: Michael Pearson and Steve Almasy
CNN