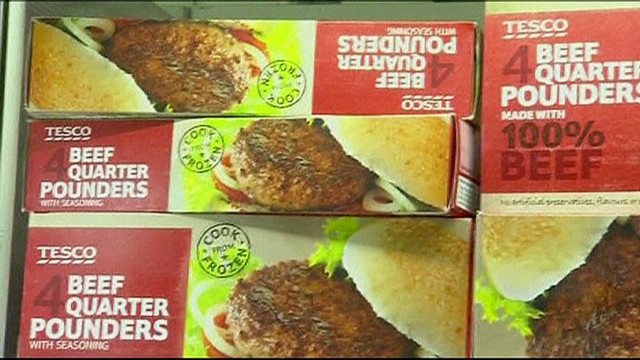 Horsemeat has been discovered in products labeled as 100% beef and sold in Sweden, the United Kingdom and France.
Food authorities in those countries have launched investigations but the supply chain being studied includes still more countries.
We look at the implications.
How did the presence of horsemeat come to light?
In January, the Food Safety Authority of Ireland found that 10 out of 27 hamburger products it analyzed in a study contained horse DNA, while 23 of them tested positive for pig DNA.
In one sample from Tesco -- Britain's largest grocery chain -- the horsemeat accounted for about 29% of the burger.
On Monday February 4, Swedish food producer Findus withdrew its frozen lasagna -- labeled with the British spelling, "lasagne" -- from British stores as a precaution after its French supplier, Comigel, raised concerns about the type of meat used.
On Wednesday February 6, tests confirmed that horsemeat was present in a number of samples.
The next day, Britain's Food Standards Agency (FSA) confirmed that "meat content of beef lasagne products recalled by Findus has tested positive for more than 60% horse meat."
Findus said a letter from Comigel dated February 2 suggested the contamination might date back to August 2012.
Then on Friday February 8, retailer Aldi withdrew two products -- Today's Special Frozen Beef Lasagne and Today's Special Frozen Spaghetti Bolognese -- after they were found to contain between 30% and 100% horse meat.
The products implicated were also from French supplier, Comigel.
On Monday February 11, Tesco announced that it had found horsemeat in some Everyday Value Spaghetti Bolognese - which it had withdrawn from sale a week earlier as a precaution. It said no evidence of the veterinary drug phenylbutazone - or bute - had been found.
Which other countries are affected?
Agence France-Presse (AFP) has reported that Comigel supplies products to customers in 16 countries.
Findus France has temporarily withdrawn three ready-prepared dishes -- lasagna Bolognese, shepherd's pie and moussaka -- because of the discovery of horsemeat in products that should be 100% beef.
Six big French retailers -- Auchan, Casino, Carrefour, Cora, Picard and Monoprix -- have also said they are recalling lasagne and other products.
Some companies in Sweden supplied by Comigel -- including Axfood, Coop, and ICA -- have also pulled certain meat products from the shelves due to the possibility they contain horsemeat.
The Netherlands Food and Consumer Product Safety Authority confirmed on Tuesday February 12 that Dutch supermarket chains including PLUS and Boni had withdrawn Primafrost brand lasagne from their shelves, while its authenticity was investigated.
A spokeswoman said it was a preemptive measure.
SOURCE: Susannah Cullinane
CNN