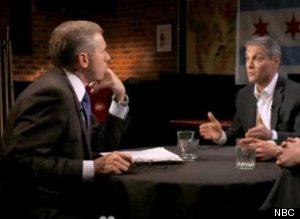 Ari Emanuel was reportedly so dissatisfied with an interview he and his brothers sat for with Brian Williams that he sent NBC a "fiery legal letter," the New York Post reported on Saturday.
The Emanuel brothers sat for an interview for "Rock Center with Brian Williams." They appeared on the program to talk about bioethicist Ezekiel's new book, "Brothers Emanuel: A Memoir of an American Family." Williams allegedly approached the interview with a far more serious tone, and the discussions became so contentious that Ari reportedly complained by letter and in person to NBC Universal chief Steve Burke. A source at NBC News told The Huffington Post that the claim that Ari confronted Burke about the interview is "completely inaccurate."
The spirited interview, which aired on Friday, seems far from contentious. Williams mentioned that Ari did not enjoy when the "Nightly News" anchor pressed him on his "scorched-earth reputation in Hollywood," but highlighted how it brought about a moment of self-reflection.
Williams' primetime newsmagazine has been moved three times since debuting in November 2011: from Monday to Wednesday, to Thursday, to Friday. Last month, news broke that Williams was reportedly angry with NBC over the many time changes.
Source: Huffington Post Media