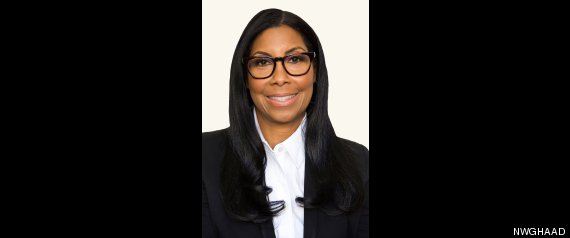 In just another ten years, Cookie Johnson's life as an HIV-awareness advocate would have outpaced, her humble upbringing in Detroit, her stint as a department store buyer in Toledo, Ohio, and, most notably, her life as the wife of an NBA great.
But while HIV advocacy is a platform Johnson says she had to arrive at swiftly, following her husband, Earvin "Magic" Johnson's 1991 announcement about his battle with the disease, it's one that she's been speaking from ever since.
"The thing I had to come to grips with right ways was, are we going to let this disease take over us and destroy our family? Or are we going to fight for it?," Johnson told The Huffington Post, recalling the emotional jam she found herself in between her husband's diagnosis, learning that she was two months pregnant and educating herself about what was then thought to be a terminal disease. "I had to make that decision right away, because he was letting me know, 'I'm letting you off the hook. I did this thing, so you don't have to deal with it if you don't want to," she said. "But I ultimately chose to save my husband and my family."
Johnson elaborated on her passion for HIV advocacy took shape in an interview with The Huffington Post and why other women need to join the fight on the eve of this year's National Women and Girls HIV/AIDS Awareness Day.
Going from the shock of your husband's positive diagnosis to advocating for greater awareness about the disease -- how did that happen for you?
For us, it was super hard. That was back in the day, in 1991, when people were dying at alarming rates. That was when people didn't know anything about the disease, so it was very frightening.
The number one step was to educate ourselves -- what we could do to make sure he stayed healthy; what we could do to make sure he never got sick, and to make sure I was fine and the baby was fine.
We also had to make a decision at that point, which Elizabeth Glaser was very instrumental in. We went to go see her right away and the first thing she said is, "You have to go fight. You have to fight for the people with no voice." And that's when we knew we had to be advocates, that he had to be the face of HIV and AIDS for heterosexual people. He had to make the decision that it was not about just him, he couldn't be selfish and just wallow in it. And I knew it, too. I knew it was just God's purpose for us and my purpose was to be by his side and make sure he was strong enough to do that.
That's been our fight ever since. We've never stopped -- 22 years later.
Source: Black Voices | Jessica Cumberbatch Anderson