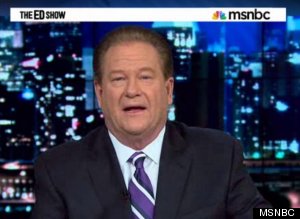 MSNBC's Ed Schultz announced on his Wednesday show that he would be leaving his 8 p.m. weeknight time slot. Schultz will move "The Ed Show" to the weekends, where it will air from 5 to 7 PM on Saturdays and Sundays. Thursday night's show will be his last. His weekend show will begin in April.
Schultz's announcement came just after his exclusive interview with Scott Prouty, the filmmaker behind the infamous 47 percent video of Mitt Romney.
"The Ed Show" debuted in the 6 p.m. hour on April 6, 2009. It has moved twice since then, first to 10 p.m. in January 2011 and then to its most recent spot in October of the same year.
Schultz presented the move as one he volunteered for, though previous reports have suggested that MSNBC was looking to replace him.
"I raised my hand for this assignment for a number of personal and professional reasons," he said. "My fight on 'The Ed Show' has been for the workers and the middle class. This new time slot will give me the opportunity to produce and focus on stories that I care about and are important to American families and American workers." He added that he did not want to spend all of his time "sitting behind this desk five nights a week."
MSNBC president Phil Griffin said he was "thrilled" for the host. "It's an exciting time for MSNBC, and I'm looking forward to having Ed's powerful voice on our network for a long time," he said.
Schultz may have more time to travel the country, but the shifting of his show to weekends is a clear demotion. The 8 PM cable news slot is one of the biggest prizes in prime time, home to marquee names like Bill O'Reilly and Anderson Cooper. MSNBC has been building up its weekend programming, but it is simply a less prestigious time period.
Source: Huffington Post Media | Anjali Sareen and Jack Mirkinson