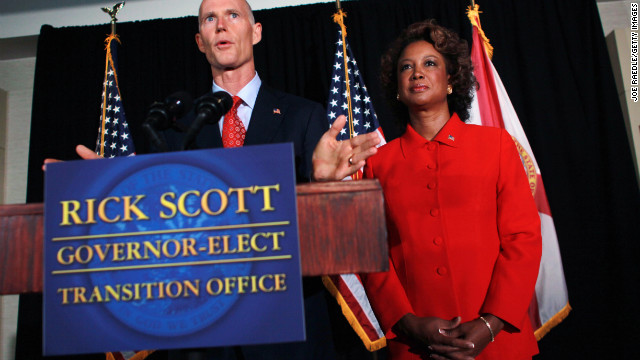 Florida Lt. Gov. Jennifer Carroll has resigned, it was announced Wednesday, the day after she answered questions from investigators about her role in an allegedly corrupt veterans' charity.
Florida Gov. Rick Scott and Lt. Gov. Jennifer Carroll in 2010, when both were elected to their posts.
The resignation came the same day 57 people connected to the charity, Allied Veterans of the World, were arrested on racketeering and money laundering charges. Leaders in the company, which operates Internet gambling parlors, are accused of donating little of its proceeds to veterans, and instead buying luxury goods for themselves.
"I want any funds from these groups to immediately be given to charity. I have zero tolerance for this kind of criminal activity, period," Gov. Rick Scott said Wednesday.
In a two-sentence resignation letter delivered to Scott, Carroll said it was an "honor to have served." She consulted for Allied Veterans, but was not among those arrested Wednesday.
"Carroll consulted for this company in 2009 and 2010 when she was serving in the Florida House of Representatives," Scott said at the press conference. "The Florida Department of Law Enforcement interviewed Lt. Gov. Carroll about her work for this company, and yesterday Lt. Gov. Carroll resigned in an effort to keep her affiliation with the company from distracting our efforts to help make sure we do the right thing for Florida families."
Source: CNN | Josh Levs