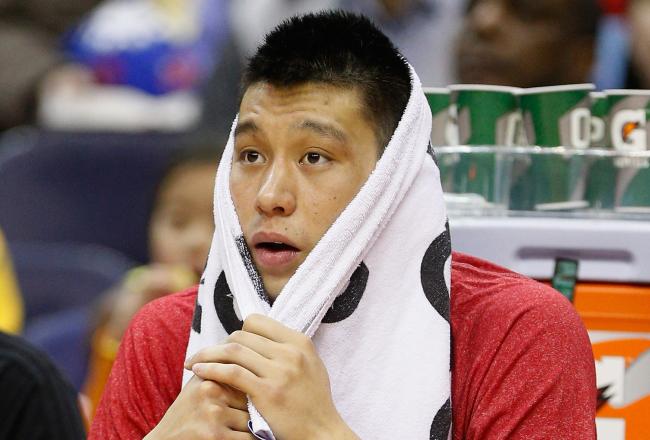 Jeremy Lin certainly has his limitations out on the court, but he's been a great fit in the Houston Rockets' fast-paced offense.
However, Lin's ankle issues from last week are worth noting. If he is forced to miss time, the Rockets won't get very far this season.
He and backcourt partner James Harden both sat out last Thursday's practice, per CSNHouston.com. Lin twisted his ankle in last Wednesday's 110-107 loss to the Milwaukee Bucks.
The point guard was able to play the following game and the Rockets have won two straight games since, but we all know what happened to the 6'3", 200-pounder last season when he was with the New York Knicks. After a March 24 game against the Detroit Pistons, Lin was diagnosed with a meniscus tear in his left knee. He opted to have surgery and missed the rest of the season, including the playoffs.
Though Lin is not a consistent jump shooter at this juncture of his career and his man-to-man defense needs work, the Rockets are a perfect fit for him.
More specifically, he and Harden execute the pick-and-roll brilliantly, which is part of the reason Houston is averaging 107.0 points this season--good for tops in the NBA.
But the drawback to the Rockets' constant motion on offense is the fact that their players are more susceptible to injury. Lin may not be averaging an ungodly amount of minutes (32.5), but those minutes are exacerbated when you take into account the tempo of the offense with Lin leading the charge.
Houston currently holds the No. 7 seed in the Western Conference, three games ahead of the ninth-seeded Los Angeles Lakers with 21 games remaining. There is some cushion there, but not a whole lot.
Despite Los Angeles' loss to the Oklahoma City Thunder on Tuesday, the fact remains that the Lakers have won five of their last seven games since the All-Star break. They are playing better basketball overall.
The Knicks went 12-5 down the stretch without Lin last season, primarily because of Carmelo Anthony. The Rockets, for their part, can inch into the playoffs with Harden if Lin goes down or is forced to miss time.
Source: Bleacher Report | RYAN RUDNANSKY