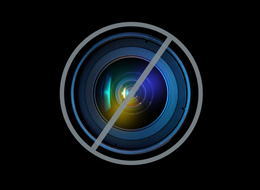 Are you ready for some good news? Michelle Obama's cover for the next issue of Vogue is really happening!
Or so it seems.
The Washington Post has confirmed the initial reports that the glossy fashion mag held a shoot at the White House in January. Robin Givhan, the Post's former fashion editor, tipped off the newspaper that Michelle Obama was shot by Annie Leibovitz for the April cover of Vogue wearing -- wait for it -- Reed Krakoff.
We don't usually get excited about these kinds of rumors, but Ms. Givhan is definitely a trusty, in-the-know member of the industry. Of course, we originally speculated that FLOTUS' cover would debut for March, so we were a wee bit disappointed to see Beyonce's gorgeous face when our issue came in the mail.
But it finally seems like we'll have a reason to rejoice. Mrs. O wearing Reed Krakoff seems like a likely choice, too -- she's chosen his pieces for the Pritzker Architecture Prize Ceremony, President Obama's swearing-in ceremony this year and the inauguration that came after it. One could say the designer is her new Jason Wu (she did wear Wu on her last Vogue cover in 2009, after all).
Source: Huffington Post | Rebecca Adams