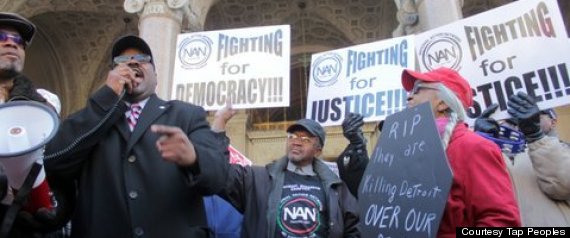 An expected state takeover has been the hottest of hot button issues in Detroit, and Gov. Rick Snyder's Thursday announcement of a state takeover and the appointment of Kevyn Orr to the position of emergency financial manager (EFM) is likely to bring even more heat to the situation.
Many residents of the majority African-American city feel the appointment of an EFM is a form of political disenfranchisement. In Detroit, some are now engaging in political protest and civil disobedience in an effort to make their voices heard.
During Snyder's Thursday press conference at the Cadillac Place building in Detroit's New Center district, a crowd of picketers from Good Jobs Now, the National Action Network and other groups made clear their opposition to the EFM appointment.
Others have gone further than that. A series of traffic jam protests began last week with a convoy of vehicles, some with signs alluding to cities with state receivership, tying up motorists on I-75 southbound in Detroit.
Michigan State police told The Detroit Free Press that this week drivers have slowed down traffic in four related incidents that occurred on the I-94 and Lodge freeways.
Activist Stephen Boyle told the Huffington Post in a prior interview that the traffic protesters are upset that state officials have ignored strong public opposition to state takeovers like the decision of Michigan voters to repeal the emergency manager law Public Act 4 last November.
"We basically decided, if [the state was] not going to listen to the public, the public was going to slow down traffic," Boyle said. "If we slow down traffic, maybe people will stop and listen for a moment, as to what's going on. This isn't business as usual."
Click here to read more
Source: Black Voices | David Sands