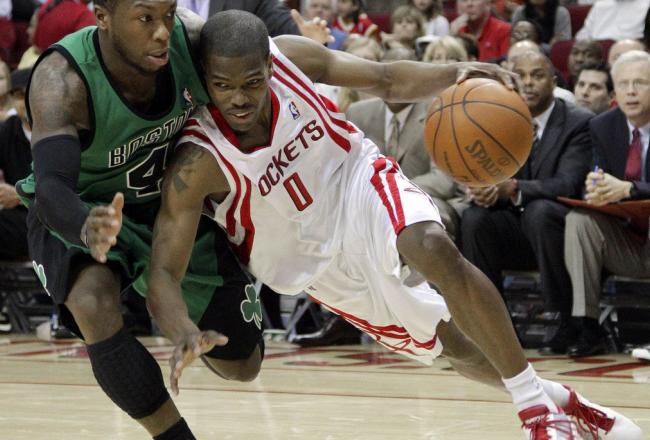 Watching Houston Rockets general manager Daryl Morey recently beating Jeremy Lin in ping-pong, I wonder how many picked up on the delicious symbolism.
Lin has to have felt like a ping-pong ball since joining the Rockets. And now, prodigal point guard Aaron Brooks returning to Houston allows me to invoke the table-tennis metaphor once more:
Is this another bad bounce for Lin?
I am of two minds regarding JLin. I can easily see and have compassion for the way Morey and coach Kevin McHale have flipped the script on him.
First, Lin lost face. He was replaced as the franchise player when shooting guard James Harden joined the fold. Consequently, Lin lost the ball: McHale immediately granted Harden the bulk of the ball-handling duties.
Once that happened, Lin lost his advantage. He thrives on attacking the rim off the dribble. If he's not dribbling, my thinking goes, it's much more difficult for him to attack.
Finally, Lin seemed to lose the coaches' faith. Interim coach Kelvin Sampson, and more recently McHale, have sometimes benched Lin at the strangest of times, most glaringly in a number of fourth quarters, often as Lin seemed to have gotten things going in an otherwise tough shooting night.
All this in a career still so brief, the young man has just passed a season's worth of starts.
Now let's talk about my other mind.
My other mind does not like excuses. When someone flips the script on you, my other mind says turn the new script into an Academy Award-winner.
In other words: If the situation dictates a slasher to become a spot-up shooter, then that is what one must do. If the situation requires one to learn how to attack with less space, then that's what must happen.
Lin has had spotty results adapting to the new script.
He has reduced his turnovers. His pick-and-roll duet with Harden can often be a thing of beauty. He is ninth in the league in steals per 48 minutes. He always plays hard, doesn't complain and looks to give to his teammates and lift his team rather then self-aggrandize.
But on the negative side of the balance sheet, Lin's jump shot is still inconsistent, and I expect it to remain so until and unless he continues to work on it in the offseason. Further, despite his penchant for steals, Jeremy's defense still leaves a lot to be desired. (That, by the way, is what the coaches attributed Lin's late-game benchings to: Toney Douglas and now Patrick Beverley are superior to Lin defensively.)
Perhaps most damning is this statistic: Lin's player efficiency rating among point guards averaging more than 30 minutes a game is third-worst in the NBA.
With the exit of Douglas and the Rockets shorthanded, Lin put together one of his signature games for the ages: 29 points, 12-for-22 from the floor and 3-for-5 from three-point range, and most inspiringly, so money in the clutch I would have been tempted to shake him down for engraving plates.
Since then, temporary Linsanity has given way to maddening inconsistency once again, and even a worrisome injury.
Source: Bleacher Report | MARSHALL ZWEIG