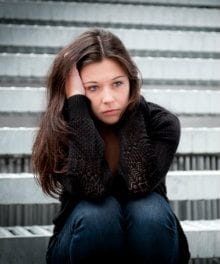 I looked across the sanctuary at my two girlfriends who were crying their eyes out. Our senior pastor had just notified the congregation that he was taking a position in another state across the country. We were shocked and saddened. However, as a Christian of 15 years I had been through this before. But as young Christians my two friends had not. This man was the only pastor they had ever known. I watched carefully as they responded to the news.
Their weeping brought back a memory in my own life when I experienced the same emotions. When my first pastor gave his notice of his decision to change churches I wept like a child. My husband finally said to me, "Laura, he is moving -- he isn't dying." His words snapped me back to reality, but the grief lingered. At the time I didn't understand why I was having such a difficult time losing him from my life. But years later while observing my two friends it all became painfully clear.
Through their tears the Holy Spirit revealed a profound truth. These two friends grew up in a home without a healthy example of a father. As did I. These two friends also were recently divorced from a man who lied, betrayed, belittled, and abandoned. As was I. Although our circumstances were somewhat different, the void of not having an attentive and available daddy had created the same wound to our soul. And as I watched them weep I realized the common denominator. When we accepted Christ and joined a church our pastor became the first example of what a faithful, wise, godly father and husband was supposed to look like.
The three of us never witnessed a healthy marriage. Nor did we know what it felt like --as a child or an adult --to have a protective male covering over our lives or homes. To summarize, our first pastor was the first real man we ever met.
The admiration for a male role model who imparts wisdom every Sunday, faithfully loves his wife and children, and is a committed man of character is an enigma to us. He reveals to the woman with the daddy wound that there are men who exist that treat a woman properly.
Source: Crosswalk.com
Laura Petherbridge is an international author and speaker who serves couples and single adults with topics on relationships, divorce prevention, singleness, and divorce recovery. She is the author of When "I Do" Becomes "I Don't"--Practical Steps for Healing During Separation and Divorce, and The Smart Stepmom. She is a featured expert on the DivorceCare DVD series and her website is www.Laurapetherbridge.com