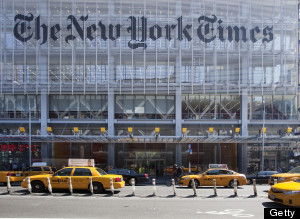 The Justice Department did not issue a subpoena for New York Times phone records in a leak investigation following David Sanger's 2012 article on the U.S. and Israel developing a computer virus to disrupt Iran's nuclear program, according to an NBC News report.
On Thursday night, NBC's Michael Isikoff reported that Gen. James Cartwright, a former Vice Chairman of the Joint Chiefs of Staff, is the focus of a criminal investigation for allegedly leaking classified information about covert cyberattacks using the Stuxnet virus against Iran. Sanger's report, adapted from his book "Confront and Conceal," describes Cartwright as a "crucial player" in the top-secret operation codenamed "Olympic Games."
Isikoff also addressed whether the DOJ had obtained Times journalists' phone records in the investigation, a concern within the paper since the Associated Press revealed last month that investigators had secretly seized phone records in a separate leak investigation.
"Legal sources tell NBC News that federal prosecutors have developed their case without issuing any subpoenas for phone records from the New York Times," Isikoff reported.
A Times spokeswoman told HuffPost on Friday the paper is "not aware of any subpoena on NYT phone records in the leak investigation."
That doesn't rule out phone records having been obtained, given that the DOJ seized AP records without first contacting the news organization, a departure from typical protocol in dealing with the press. But Isikoff's reporting, coupled with the Times being unaware of any records seizure, suggests investigators did not take the controversial step.
A DOJ spokeswoman did not immediately respond to requests for comment.
Republican lawmakers led the call for leak investigations a year ago, following Sanger's report and a bombshell Times front-page story days earlier on President Barack Obama's terrorist "kill list."
Times managing editor Dean Baquet defended the stories at the time to HuffPost.
"Both the rise and use of drones, and the increased use of cyberwarfare, are the kinds of issues that we have a public service mission to surface so they can be part of a national debate," Baquet said.
Source: Huffington Post | Michael Calderone