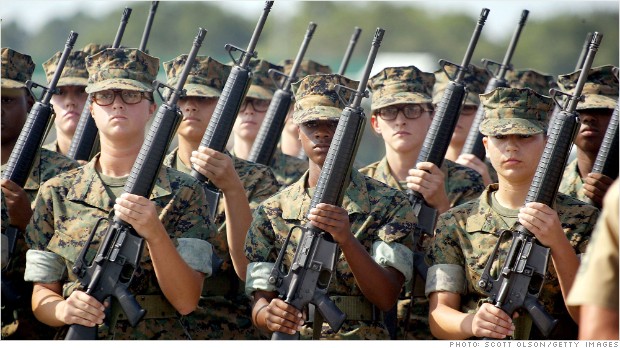 The government is cracking down on lenders that have taken advantage of tens of thousands military members.
In one action announced Thursday, the Consumer Financial Protection Bureau said it has ordered U.S. Bank (USB, Fortune 500) and another company, Dealers' Financial Services, to refund a combined $6.5 million to more than 50,000 active duty service members to make up for failing to disclose fees and other costs on auto loans.
The government agency said the auto loans were marketed to active military members with little credit history, borrowers who were "often young and new to the car buying process."
The size of the refund will vary widely, according to CFPB, but will average around $100.
An investigation of the firms' so-called "MILES" program -- a subprime auto loan program that operated near military bases across the country -- found that U.S. Bank failed to properly disclose fees and other information about the loans, while Dealers' Financial Services understated the costs of add-on products, such as vehicle service or insurance.
For example, marketing materials claimed adding a vehicle service contract would add only a few dollars a month, when it actually cost an average $43 extra per month.
The program also required service members to pay the loans using the military allotment system, which deducts payments directly from military paychecks, but then charged the borrowers $36 in monthly processing fees each year. U.S. Bank did not properly disclose those fees, the CFPB said.
U.S. Bank said in a statement that the MILES program, which was created more than a decade ago, has been "a popular program with young military service people, who faced the prospect of paying much higher interest rates at other lenders." Still, the company said it plans to exit the program, and noted that it had not been fined beyond paying the refunds.
Source: CNN Money | Melanie Hicken @melhicken