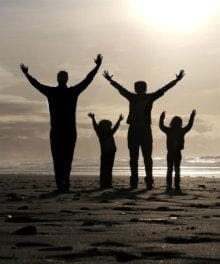 "Don't let your hearts be troubled. Trust in God, and trust also in me" (John 14:1, NLT).
I just love the picture of a father holding his precious ones in His arms. There is so much love in His embrace. In His arms we are found whole.
Complete.
No matter what the problems of the day, all we need is to surrender and go running into the arms of Jesus. He is the one who helps us lead a Father's legacy.
I downloaded A Father's Legacy: Twelve Important Things I Learned from My Dad by Nancy Leigh DeMoss, one of my favorite authors. I hope it encourages you this week to draw near to the Lord and find your portion. He is our inheritance!
1. Take God seriously. It will be well with those who fear God (Eccles. 8:12)
2. Start your day with God. He wakens me morning by morning, wakens my ear to listen like one being taught (Isa. 50:4 NIV).
3. Trust and obey. Rest in and surrender to the sovereignty of God. For I know that the Lord is great, and that our Lord is above all gods (Psalm 135:5).
4. Little things matter-a lot. The choices you make today will have consequences. Do not be deceived: God is not mocked, for whatever one sows, that he will also reap (Gal. 6:7).
5. You aren't responsible for what others say or do to you; you are only responsible for how you respond to them. The righteousness of the righteous shall be upon himself, and the wickedness of the wicked shall be upon himself (Ezek. 18:20b).
6. Ask for advice; listen to godly counsel. Listen to counsel and receive instruction, that you may be wise in your latter days (Prov. 19:20 NKJV).
7. Guard your heart. Be intentional and wise about what you feed into your mind. Keep your heart with all diligence, for out of it springs the issues of life (Prov. 4:23 NKJV).
Source: Crosswalk.com
Renee Fisher is: Adoring wife, spirited speaker, published author of 4 books including Faithbook of Jesus, Not Another Dating Book, Loves Me Not (new), and Forgiving Others Forgiving Me (Aug. 1), and a San Diego Christian Writers Guild board member. I am forgiven and free, which is why I write to spur others forward (Heb. 10:24).