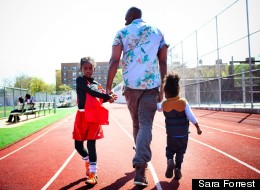 For entrepreneur William K. Middlebrooks, the only difference between living an ordinary life and an extraordinary one is your willingness to do the extra in everything that you do.
Kenneth J. Montgomery, Esq. with his daughter and son, from the forFATHERS project.
It's a lesson Middlebrooks says his father instilled in him growing up, and one that served as a source of inspiration for a compilation of wisdom he and marketing executive Leslie M. Gordon recently released on the role of fathers in the African-American community.
Part chapter-memoir, part call-to-action and part inspiration, the book, "Dare To Be Extraordinary: A Collection of Positive Life Lessons from African American Fathers," recognizes and honors the wisdom and teachings of African-American fathers passed down to sons and daughters, one summary reads.
Among them: Cultural icon and entrepreneur Russell Simmons, NBA veteran Allan Houston, ABC News broadcaster Robin Roberts and the authors themselves, who sat down with The Huffington Post to discuss their mission to portray black fathers in a more positive light.
Given all of the negative notions around black men and fatherhood, how did this counter-narrative come about?
Bill: About two years ago I came to Leslie and said, "Hey, I've got this idea. I want to write a book that does a couple things." One, it honors and recognizes those African-American men that have stepped up and assumed the responsibilities of fatherhood. Second, I wanted to have a book that educated and reinforced, not only within the African-American community, but the greater community, that African Americans can, have been and continue to be engaged and loving fathers. Third, we wanted to inspire more African-American men to engage in the lives of their children. We wanted to offer a potential road map for fathers and parents from men who have raised extraordinary sons and daughters. And finally, we wanted to do something that was going to begin a new positive conversation about the role of fathers, particularly African-American fathers. We had to do something that gets us to our larger goal, which is to... bend the curve.
When I was born in 1960, U.S. Census reported that father-absent homes for white american children was at 8 percent. For African-American children, that number was 31 percent. Fast forward to 2010, the census figures show for white children living in father-absent homes, that number is 21 percent; for African-American children, it's over 58 percent. We have to figure out some way to change the dialogue, change people's thinking about fatherhood, and this was an attempt by Leslie and I to do that.
Leslie: From my perspective as a woman, as a mother of three, and as someone who loves African-American dads and men, I just felt compelled to help tell a positive story. As much as the news is negative about what's happening in our community, we just want to shine a really bright light on these extraordinary people who were raised by some phenomenal dads and who were loving and selfless and very nurturing. They didn't just look at fatherhood as [being] the financial provider, but they literally, proverbially wrapped their arms around their kids and pushed them to be as extraordinary as possible.
Source: Black Voices | Jessica Cumberbatch Anderson