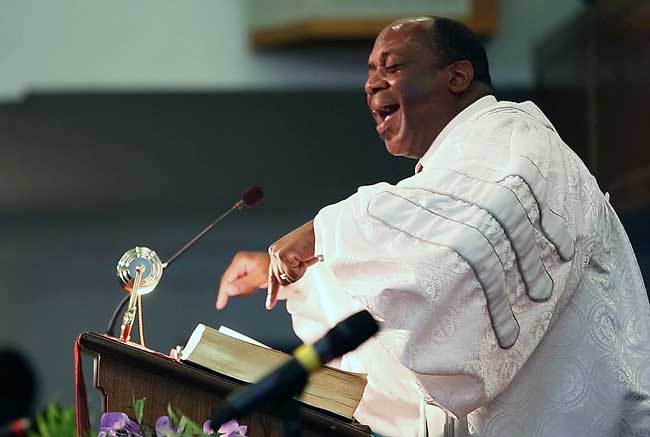 The faces in stained glass that inspire worshippers at the Pilgrim Baptist Church aren't those of a white Jesus and the saints.
Pilgrim Baptist Church Senior Pastor Rev. Charles Gill preaches a sermon in St. Paul, Minn., May 5, 2013. Pilgrim Baptist is celebrating its 150th anniversary June 21-23, 2013. (MPR Photo/Jeffrey Thompson)
Instead, they're the faces of the black ministers who led the church, and the Rev. Martin Luther King Jr. The window closest to the altar carries a portrait of Robert Hickman, an escaped slave from Missouri who 150 years ago led slaves traveling north on the Underground Railroad, a physical and spiritual migration that Pilgrim Baptist celebrates this month.
According to church history, the group of about 50, who called themselves "Pilgrims," journeyed by a self-made river boat to St. Paul in 1863, seeking freedom and a place to worship.
"I think he was a Minnesota pioneer," said Hickman's great-great granddaughter, Sharon Harper. "I do think the fact that he was educated made the critical difference."
Hickman's owner was a minister who taught him to read.
Although Hickman saw opportunity in Minnesota, the arrival of the former slaves during the Civil War wasn't well received by local officials, who quickly moved to separate them.
"They were approached by the local authorities and told that their group was just too large for this area and if they were planning on settling, a third would have to go to north, maybe to Duluth, a third would go south to Hastings and a third could stay here to settle," church member Nate Galloway said.
Hickman remained with the group in St. Paul, and studied for three years to become an ordained minister. The congregation first worshiped in rented space. Then, in 1866, Pilgrim Baptist Church moved to a permanent home in downtown St. Paul, making it the first predominantly black church in Minnesota. Church members celebrated with a baptism on the shore of the Mississippi.
Their descendants say that legacy motivates them to continue to follow the Gospel and help others in a time of different challenges: foreclosures, unemployment and a persistent achievement gap between black and white students.
THRIVING RONDO COMMUNITY
In 1928, the Rev. Lee Ward Harris, Nate Galloway's grandfather, moved the congregation up the hill to Central Avenue in the Rondo neighborhood, the heart of St. Paul's black community.
Galloway said that in the 1930s, his grandfather, who is pictured on one of the church windows, continued the Pilgrim tradition of ministers who deplored the discriminatory treatment of black Americans.
"He went to the House of Representatives here in St. Paul and denounced segregation and that he told them it was unfair -- the disparity of blacks to whites working for the state," Galloway said. "I think at the time there were 22,000 Caucasians to maybe 16 people of color working for the state."
Pilgrim Baptist Church members founded local chapters of the Urban League and the NAACP, and also founded the Hallie Q. Brown Community Center.
For generations, the church drew black professionals and the working class, said Ora Lee Patterson, another lifelong member.
"The working men of this community were railroad men," Patterson said. "They worked at the packing house in South St. Paul. They worked in their own businesses, running their own businesses on Rondo Avenue. At one time on Rondo Avenue we had over 150 businesses. Now, some people will say, 'where were they?' They were small businesses, and yet they kept a family going."
Source: Minnesota Public Radio | Sasha Aslanian