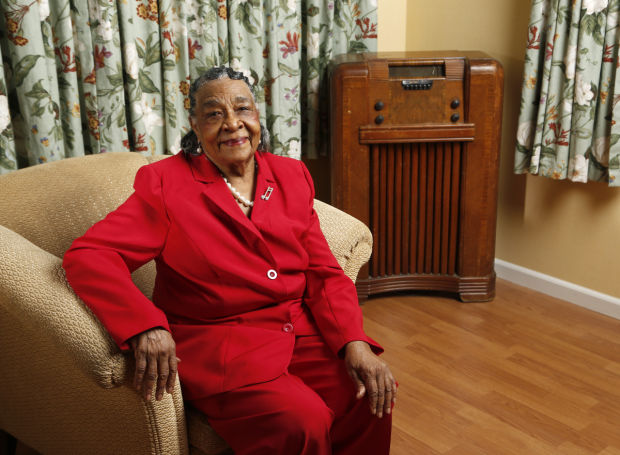 Second in a series of stories highlighting the 2013 Cedar Valley Business Monthly Eight over 80 winners.
Ever since Willie Mae Wright arrived in Waterloo from her native Mississippi in the 1950s, she has embraced the community the only way she knows how: by getting involved.
When she saw racial disparity at East High School, where her daughter was a student, she was one of a group that picketed Waterloo Community Schools Superintendent George Diestelmeier's office seeking a redress of grievances.
She later served for a decade on the Waterloo City Council as only the second black member in city history. She fought for civil rights and the rights of all residents of her east side neighborhood.
Wright "truly represented her constituents," said Bob Brown of Cedar Falls, who nominated her for The Courier's Eight Over 80 Awards. "While on the city council, she served as a liaison for the city of Waterloo on the Human Rights Commission, the Historical Commission, Visitors Bureau, chair of the Human Resources Committee and a member of the buildings and grounds and finance committees."
That's just for starters. Wright served as president of the Waterloo Women's Civic Club and Jesse Cosby Neighborhood Center board; secretary of the Black Hawk County NAACP and executive board member; member of the East High and Central High advisory boards; member of the Longfellow Elementary PTA; and honorary auxiliary member of the Sunrise Boy Scouts and den mother.
Wright also served on the boards of the Up Downtowners, Black Hawk-Bremer League of Women Voters, Operation Threshold, Adults Inc. adult day care and Silos & Smokestacks, of which she also was a trustee.
Wright taught Sunday school and served as Christian education director with Payne AME Church.
Today, Wright is director of elections with the Black Hawk-Bremer League of Women Voters, a member of the Walnut Neighborhood Association, is active in the Democratic Party, a member of the John Deere Museum committee and co-president of Payne AME Church laymen's committee.
Eight Over 80 nominations on Wright's behalf voiced appreciation for her public service, particularly in the area of civil rights.
"Willie Mae has worked tirelessly for east Waterloo and is still considered by many as the 'unofficial Fourth Ward councilperson," Matt Boyd and Cheryl Faries said on their nomination form.
Nominator Jane Teaford said Wright worked "forcefully" to ensure east and west Waterloo got equal attention from city officials, and Wright also "stood up strongly" for black representation in city government.
Wright represented Waterloo's fourth and sixth wards for 10 years under three different mayors --- Del Bowers, Bernie McKinley and Al Manning.
Teaford said when Wright left the City Council, three city departments were headed by blacks.
Getting involved was a natural experience for Wright.
"I've been so involved in this community from my kids, when they started school --- real involved in elementary school, Girl Scouts, Boy Scouts, the church, Sunday school," she said. "That's how I became so interested in the community and was asked to run for City Council. From City Council, from League of Women Voters and the Waterloo Women's City Club, until I just got so involved, here I am. I just didn't realize the 80th (birthday) was coming so fast."
Source: WCF Courier | JIM OFFNER, jim.offner@wcfcourier.com