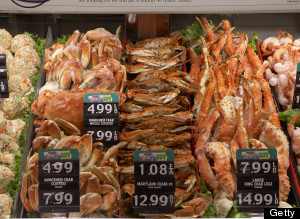 More Americans are annoyed by the idea of food stamp recipients using their benefits to buy expensive food than their using them to buy junk food, according to a
new HuffPost/YouGov poll
.
According to the survey, 54 percent of Americans think people should not be allowed to use food stamps to buy expensive items such as crab legs, while only 32 percent said that they should be allowed to do so.
By contrast, respondents were split on allowing those on food stamps to buy junk food, like potato chips, candy and soda. Forty-five percent said they should be allowed to buy those items and 42 percent said they should not.
For decades, crab legs have been an icon of food stamp resentment. In June, after the House of Representatives voted down a bill Republicans deemed insufficiently conservative because its food stamp cuts weren't deep enough, Rep. Louie Gohmert (R-Texas) spoke out on the House floor about a hardworking constituent who'd been in line behind someone using food stamps to buy crab legs. The man was heartbroken to realize "he is actually helping pay for the king crab legs when he can't pay for them for himself," Gohmert said.
Enrollment in the Supplemental Nutrition Assistance Program has swelled to 47 million in the wake of the Great Recession, making the program a bigger target for Republicans than it's ever been. Outside of prohibitions on hot meals, alcohol, cigarettes and household products, there are few limits on the type of food SNAP benefits can buy.
HuffPost/YouGov poll respondents were more accepting of the thought of food stamp recipients buying whatever they want with their own money, including either junk food or big ticket food items. A 52 percent to 27 percent majority said it was acceptable for those receiving food stamps to buy expensive items with their own money, while a larger 63 percent to 22 percent majority said it was acceptable for them to buy candy, soda and potato chips with their own money.
Hannah Aldrich of Loma Rica, Calif., embodies many of the tensions in public opinion revealed by the poll. She said she and her husband and their three kids receive $668 a month in SNAP benefits.
Keenly aware that a lot of people have strong opinions about how food stamp recipients use their electronic benefit transfer cards, whenever she goes to the store Aldrich puts on nice clothes and makeup to mitigate judgmental looks from other shoppers.
"Just because we're on food stamps it doesn't necessarily mean we're all flip-flop wearing white trash bums," Aldrich said.
Source: Huffington Post