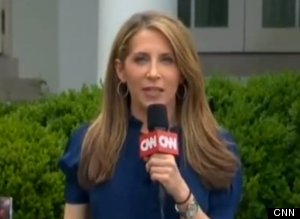 CNN announced changes to its White House team on Tuesday, moving Jessica Yellin off the beat and promoting Brianna Keilar and Jim Acosta.
| | |
| --- | --- |
| Do You Like this Article? Then Like Us on Facebook. | |
The changes will take effect in September, according to a statement from the network. Jessica Yellin, who is currently the chief White House correspondent, will become chief domestic affairs correspondent and also serve as a substitute anchor.
Brianna Keilar, a White House correspondent, will move up to senior White House correspondent. Jim Acosta, national political correspondent, has also been promoted to senior White House correspondent. Rene Marsh, a reporter for CNN Newsource, will be CNN's new aviation and government regulation correspondent.
"As CNN continues to grow its newsgathering capabilities, we are thrilled to have such an outstanding group of correspondents to move into these key roles," Washington bureau chief Sam Feist said in a statement on Tuesday.
Source: Huffington Post Media