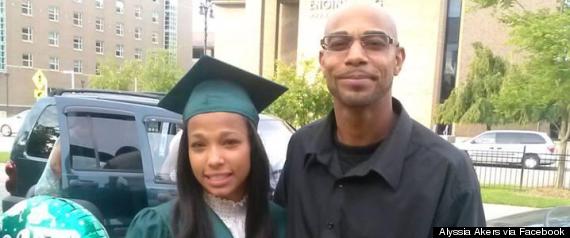 For an 18-year-old, Alyssia Akers seems like she has it made. She graduated high school, is on her way to college in the fall, is paying her first semester's tuition with the help of generous strangers and recently appeared on an MTV show that highlighted her achievements.
Alyssia Akers, a Detroit 18-year-old, successfully crowdfunded over $4,000 to help pay for her first semester of college at Bowling Green State University. Akers has overcome barriers throughout her life to achieve her college dreams. Photo courtesy Alyssia Akers via Facebook.
But the determined Detroiter didn't get this far without first overcoming some incredibly tough obstacles. Just weeks ago, short on funds for school, there was a chance she might have to decline the offer from Bowling Green State University and return to her job at a pizza shop.
With a bill for $15,000 for her first semester, Akers was still coming up short after financial aid. It was difficult to get loans, she said, because she lives with her father, who is unemployed, has bad credit and is unable to co-sign.
With $1,500 raised in donations and a $1,000 scholarship from the Ford Foundation, she launched a campaign on the free crowdfunding site YouCaring.com to raise $4,300. On Wednesday, she met her goal, and by Thursday night she had received over $4,700.
Akers will be the first in her family to attend college. The first person she told after discovering she had met her fundraising goal? Her dad.
"He was very excited and said it was a blessing," she wrote in an email to The Huffington Post. "I FELT VERY HAPPY AND I WAS VERY AMAZED! Even dropped some tears because of how amazed I was."
One individual, who identified as SSgt Britten on the site, donated $428. He was one of more than 80 to donate and wish her well at school.
"From over here in Afghanistan," he wrote, "study hard and enjoy the college experience."
Akers moved to Detroit in 2011 and attended Central High School before graduating from Cody. Her story attracted attention when she was featured on an MTV's "True Life" earlier this month. The "I'm Saving Detroit" episode followed several young women working to make a positive impact in their city while dealing with personal hardships of their own.
"I'm a normal high school student, play sports, get good grades, hang out with my friends, but my life is different from other kids because I live in Detroit," she says in the episode. "I've gotten more freaked out about crime lately because, unfortunately, I've experienced it."
Last year, Akers was approached by a man who asked to use her phone when she was walking home from basketball practice.
Source: Black Voices | Kate Abbey-Lambertz