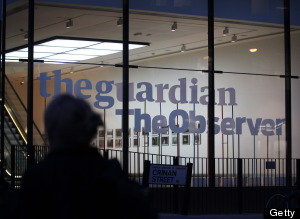 Alan Rusbridger, editor of The Guardian, wrote on Monday about an unsettling encounter with "security experts" from the U.K.'s GCHQ intelligence agency.
According to Rusbridger, "a very senior government official" contacted him about two months ago demanding the surrender or destruction of all materials in the publication's possession relating to the surveillance operations uncovered by Edward Snowden.
About a month later, Rusbridger recalls receiving a phone call "from the centre of government" in which he was told, "You've had your fun. Now we want the stuff back." He goes on to explain:
There followed further meetings with shadowy Whitehall figures. The demand was the same: hand the Snowden material back or destroy it. I explained that we could not research and report on this subject if we complied with this request. The man from Whitehall looked mystified. "You've had your debate. There's no need to write any more."
During one meeting, Rusbridger explained to an official that if the British government were to take legal steps in order to roadblock the paper's reporting, the work could simply be done outside of the country. That's when things took a disturbing turn:
Source: Huffington Post | Adam Goldberg