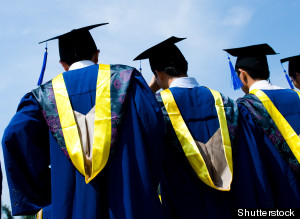 The U.S. Department of Education and Sallie Mae face fresh questions over the student loan business after the largest educational debt company disclosed a raft of likely federal violations that raise concerns over the government's oversight of its largest corporate contractor.
The Federal Deposit Insurance Corp. last month notified Sallie Mae that it plans to slap the company's banking subsidiary with an enforcement action accusing it of violating laws that ban "unfair or deceptive" practices and discriminatory lending. SLM Corp., known as Sallie Mae from its days before 2005 as a government-sponsored enterprise, disclosed the enforcement notifications to investors this week.
The FDIC also told Sallie Mae it intends to publicly accuse the company of violating the Servicemembers Civil Relief Act, a federal law intended to alleviate certain legal, administrative and financial pressures on active-duty members of the military. The Department of Justice, which enforces the servicemembers law, also is probing the company.
The expected enforcement action threatens to jeopardize Sallie Mae's lucrative contracts with the Education Department, according to federal officials and industry analysts. Sallie Mae has been awarded more than $300 million in federal contracts since 2009, federal data show, and its outstanding contracts include an agreement to service federal student loans. Its loan-servicing contract -- up for a five-year renewal next June -- requires the company to be in compliance with federal laws, such as the servicemembers law.
"We are continuing to look into this matter and await additional details from Sallie Mae and the FDIC before determining how to proceed," said Chris Greene, Education Department spokesman. Sallie Mae told the agency on Wednesday of the likely enforcement action -- two days after it told investors. Greene said Sallie Mae told the department that federal student loan borrowers were not affected, though his department and the company were still investigating.
Sallie Mae's disclosure of likely sanctions led student advocates, lawmakers and legal representatives for servicemembers to urge the Education Department to toughen its oversight of the lender.
"There is never an excuse for any lender or servicer to violate the rights of our servicemembers, and anyone who breaks the laws that protect our military families should be held fully accountable," said Sen. Elizabeth Warren (D-Mass.).
Source: Huffington Post | Shahien Nasiripour