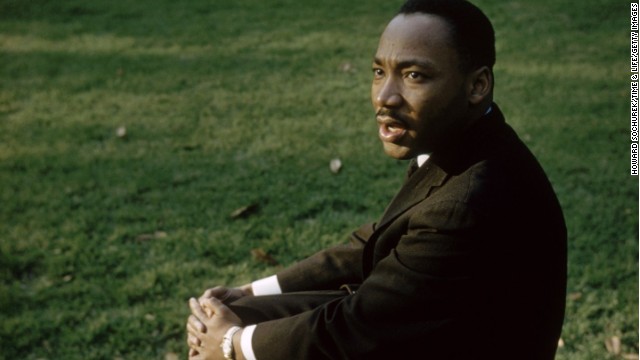 Martin Luther King Jr. taught exactly one class his entire life. It was in 1962 in Atlanta -- a year before he would give his "I Have a Dream" speech in the nation's capital.
King had just moved back to his hometown to become co-pastor at Ebenezer Baptist Church, where his father was in the pulpit. The church was such an influential voice, the King family was considered royalty in the city's African-American community.
After leading the Montgomery bus boycott of the mid-'50s, King was nationally known in his own right. The international fame that would follow the Nobel Peace Prize had yet to come.
To many of the students in his class at Morehouse College -- King's alma mater -- he was considered a mentor, even a member of the family.
He taught social philosophy -- the scholarly soul of the civil rights movement. The syllabus was demanding; students were expected to read the greatest thinkers of political theory: John Stuart Mill, Hegel, Rousseau, Socrates, Plato and more. His final exam asked: Would Adam Smith or Karl Marx support the nonviolent theory of social change?
The class met weekly for one semester. King's work often kept him away, so he enlisted a co-teacher: Samuel Williams, a member of the Morehouse faculty and pastor at a nearby church.
King was too busy to give the course his full attention, but preparing for it gave him time to reflect on his future, according to David Garrow's Pulitzer-winning book, "Bearing the Cross: Martin Luther King Jr. and the Southern Christian Leadership Conference."
"I know I would not always be a leader," the book quotes King as saying. "I will not always be in the public eye and in the news. ... I feel that there are many things just as important ahead for me, and I have almost an eagerness to give the rest of my life to the pursuit of the cultural, intellectual and aesthetic ideas I've been pulled away from by this struggle.
"Not now of course," King added with a pause, "but someday."
He spoke these words six years before he was assassinated.
Eight students stayed with the class: six Morehouse men and two women from Spelman College. Among them were Julian Bond, who would go on to become a legislator, and Amos Brown, who would move out West to lead a major congregation.
"When you were there, it's not like you are thinking, 'This is incredible,'" student Mary Worthy recalled. "He's not saying, 'I'm a great guy.' He didn't have to -- we knew that just being with him."
Source: CNN | Jen Christensen