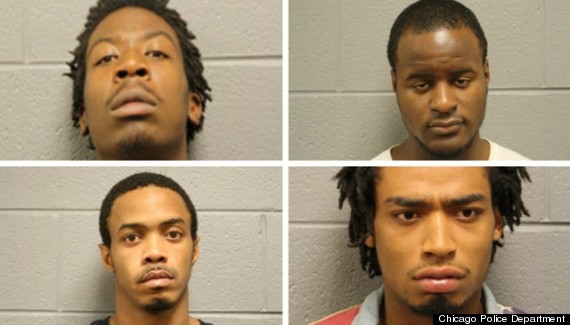 Four men have now been charged in the shooting that wounded 13 people, including a 3-year-old boy, on a basketball court in a Chicago park on Sept. 19.
The four suspects charged Monday and Tuesday in the Chicago mass shooting, clockwise from upper left: Byron Champ, Kewane Gatewood, Brad Jett and Tabari Young.
The latest suspects are Tabari Young and Brad Jett, both of them 22 years old. Young and Jett were charged Tuesday morning with attempted murder and aggravated battery with a firearm, the Chicago Tribune reports.
Young, who has been identified in reports as the alleged gunman, and Jett were arrested Sunday night in an abandoned building three blocks from where the shooting took place.
Earlier, on Monday evening, two other men -- Bryon Champ, 21, and Kewane Gatewood, 20 -- were charged in connection with the mass shooting though it was noted that neither was the gunman.
According to the Chicago Sun-Times, police believe the shooting was retaliation for a minor graze wound Gatewood sustained earlier the same day during an unreported skirmish between rival gang members in the 5200 block of South Paulina.
In a Tuesday morning press conference, Chicago Police Superintendent Garry McCarthy reiterated previous reports that a military-grade weapon was used in the shooting. He noted that Champ was convicted last year of aggravated unlawful use of a weapon and was sentenced to go to a brief boot camp program at Cook County Jail, rather than prison, even though he was on probation for a prior felony.
"If Bryon Champ was not on the street, as he shouldn't have been, this incident likely wouldn't have happened," Chicago's top cop said.
According to the Associated Press, Young has more than a dozen previous arrests on his rap sheet.
McCarthy added the investigation remains ongoing and is "not even close to getting finished."
Source: Huffington Post