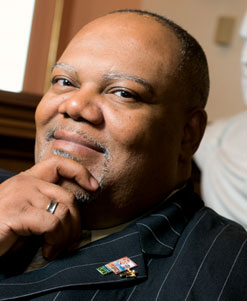 The Sacramento community is saying goodbye to Bishop Sherwood Carthen of Bayside South Sacramento Church.
"I knew him best for his smile. his saying amen all by myself. I do not think this city has ever had a preacher that good," said Ray Johnston, Senior Pastor Bayside Church. "In three minutes he could have people laughing and crying at the same time."
Pastor Carthen drew large crowds when he ministered at congregations throughout Sacramento.
After passing away on Wednesday, many in the community were left shocked and shaken.
"There was not anyone he met who did not walk away saying this man cares about me. The whole city feels like he was their best friend," said Johnston.
Pastor Carthen was the chaplain for the Sacramento Kings, good friend to Mayor Kevin Johnson, and known for working closely with law enforcement and walking the streets of Sacramento building relationships and ministering to some of the areas most dangerous criminals.
"He saw the good and the hope in everybody whether they were black, white, Hispanic or Asian. He wanted everyone to know God and he wanted everyone to do well," said William Laws with Bayside Church.
Source: Fox 40 News | Luana Munoz