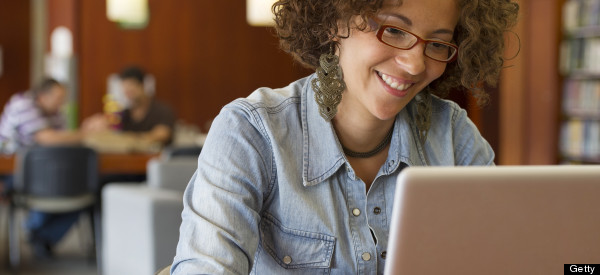 The 11th grade faces gazing back at me as I taught my first class nearly 23 years ago represented what were then called "general" English students. These were the kids no one believed would make it to college. Enticing them to engage in a conversation about the themes of betrayal and revenge in a short story by Joyce Carol Oates was the highlight of my junior year in college. I knew I wouldn't be satisfied unless I could find a way to make education relevant and accessible to everyone.
That drive for creating accessible paths to quality education has only grown stronger throughout my years as a teacher and now college administrator. Finding ways to meet students along their diverse academic journeys has remained my inspiration. I've become increasingly convinced that online learning -- done right -- is the most effective way to reach a majority of those students for whom higher education would otherwise be out of reach.
For many, online learning has remained something of an enigma, existing vaguely in the purview of for-profits. But learning at a distance has been around for decades and online learning for nearly as long. Done right, online education is one of the most accessible, affordable and effective educational options available to students today. Nearly 7 million students depend on online courses to obtain their education; however, while the numbers are not yet reliable, as few as 5 percent of students actually graduate from some of the for-profits, and the national average hovers around 38 percent. It is clear students must be supported in seeking access to an educational experience that will see them through to graduation.
This path to accessible education through online and open courses originated in the open source movement, which began well over 30 years ago among scholars and engineers who wanted to create software that could be endlessly modified and redistributed as users found new and different uses for it. Anyone with some programming knowledge could jump into the game, and this accessibility promoted a level of collaboration that ultimately resulted in a better quality product. The movement, at its best, does not allow discrimination of any sort and requires that the work remains open and available to all. These tenets speak to the best of online learning.
At their most aspirational, online degree programs have built upon the open source premise, arguing that offering courses available to everyone is the best way to create a level playing field in the post-secondary market. At their worst, they become a bait and switch, in which students take on enormous debt and receive virtually no support to enable them to transcend the roadblocks to completion that many students face.
The most at-risk students are first generation college students, employed full-time, frequently in need of writing or math remediation, and often caring for young children. They are studying late at night and early in the morning. They write papers with children pulling at their shirts and they submit responses to other students' discussions while making dinner or riding the train to a second job or waiting to pick up a kid from practice. Accessibility takes all of these barriers into account.
For these students, we must provide a high quality educational experience. With well over 5 million adults enrolled in some form of online education, it's imperative that we learn what students want from their academic journey and where we are falling short.
Source: Huffington Post| Mika Nash