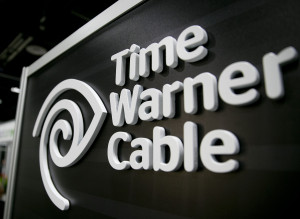 Time Warner Cable Inc said it had renewed its distribution agreement with Viacom Inc, whose channels include MTV, Comedy Central and Nickelodeon.
The Time Warner Cable Inc. logo is seen on the exhibit floor during the National Cable and Telecommunications Association (NCTA) Cable Show in Washington, D.C., U.S., on Tuesday, June 11, 2013. The Cable Show is expected to bring in more than 10,000 attendees with 286 companies on the exhibit floor. Photographer: Andrew Harrer/Bloomberg via Getty Images | Bloomberg via Getty Images
The long-term deal, terms for which were not disclosed, included allowing Time Warner to distribute all of Viacom's channels in its tablet apps, as well as its cable TV network.
It also said it would add Viacom's EPIX movie-on-demand channel for its subscribers.
Source: Reuters