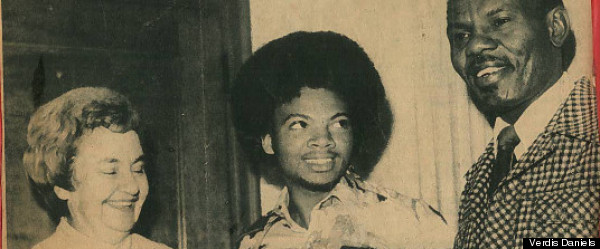 For Verdis Daniels Jr., the acquittal of Trayvon Martin's killer in 2013 showed that maybe America hasn't come so far since Daniels was an academic star at Texas' Nacogdoches High School in 1976.
Verdis Daniels, seen here in a photo of a newspaper clipping about his PSAT score.
That year, Daniels scored so well on the PSAT that the local newspaper, The Daily Sentinel, featured him in a photo with his counselor and an assistant principal. A few weeks later, police ended Daniels' educational hopes by arresting him on charges of robbing an elderly woman. The teenager happened to share one characteristic with the actual mugger, who was described as several inches taller and wearing different clothing: skin color.
Daniels, who was walking home from his dishwasher job at the upscale Hotel Fredonia near Nacogdoches City Hall, was not physically harmed like Martin, but he was targeted for the same reasons -- he was a young, black man who looked suspicious to a white man. The acquittal of Florida neighborhood watchman George Zimmerman in Martin's killing reminded many African-Americans that those reasons endure.
And 2013 -- the 50th anniversary of Martin Luther King Jr.'s march on Washington to declare his dream -- brought with it other reminders of the nation's ongoing struggle with racial inequality. Besides the Martin case, the Supreme Court nullified a key provision of 1965's Voting Rights Act -- one of King's landmark victories. The decision added fuel to a surge of voter identification laws that generally suppress minority voting.
After the Zimmerman verdict, President Barack Obama reflected on the discrimination that many African-Americans still feel. Martin, Obama said, could have been his son. The president recalled how when he was younger and not famous, people sitting in cars would lock their doors at the sight of a young black man walking down the street. The people in their automobiles may not have thought their actions betrayed racism or prejudice, yet the youthful Obama knew he posed no threat, so their instincts to seal themselves behind steel and glass stemmed from baseless fear.
Supporters of George Zimmerman chose to deny the truth of that experience, and said the shooting of Trayvon Martin had nothing to do with race, although the teen was black. Supporters of voter I.D. laws -- nearly all Republican-backed -- say such legislation has nothing to do with race, although they admit it is partisan and the people in the other party are disproportionately Latino and black.
Supporters of both insist racism is mostly over in America, pointing to that Supreme Court decision. Their advice was "Get over it."

Source: Black Voices | Michael McAuliff